Learn how to place holds and manage them from your account.
Place a hold
Perform a search and find what you would like to request.
Find the format and language you would like, and click Place Hold.

This will place a hold on the item and the edition that will get to you the soonest.
Tip: If you are using another library's catalog, you may not get your items as quickly. Always use the catalog for the library that matches your library card to get items the fastest – you can always select another library for pickup!
Place a hold on a specific edition
If you have a specific edition you would like, you can pick the edition you want – it may just take a little longer.
After you search, click Show Editions.
Click Place Hold on the edition you would like.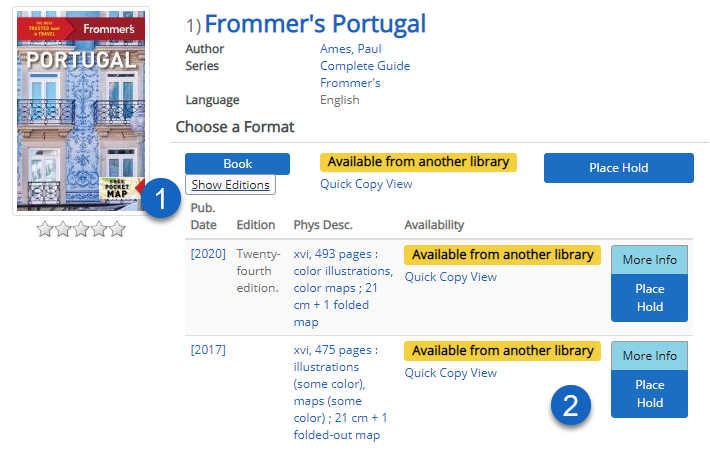 Manage your holds
Sign in and go to Titles On Hold to view all of your holds. You will see all of your holds, both for physical items and downloads.
Holds Ready For Pickup are waiting for you to download or pickup at the library.
Pending Holds are not yet available.
Pickup Location tells you where to pick up a hold.
Position tells you what number you are in line for this title – if its a big number, don't be discouraged! Often there are many items to fill your hold.
Change your pickup location
For pending holds, you can change where you want to pick up the item. If the hold is ready for pickup, you can't change the pickup location.
Click Change Pickup Loc. next to the hold.
Select the library you want from the menu.
Click Change Location.
Cancel a hold
If you don't want a hold, you can cancel it.
Click Cancel Hold next to any hold.
You will be prompted "Are you sure you want to cancel this hold?".
Click Confirm Cancel Hold.
Freeze a hold
If you can't get to the library or have too many items, you can freeze a hold. This will save your place in line.
Click Freeze Hold next to a pending hold.
Enter the date you want your hold thawed – this is when you will be back in line for the title.
Click Freeze Hold.
Thaw a hold
If you want to immediately make a hold active again, click Thaw Hold.